Lawrence W. Newman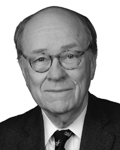 Address:
Baker & McKenzie
452 Fifth Avenue
New York, New York 10018
United States
Phone Number:
+ 1 212 891 3970
M: +1 646 510 4783
Email:
Lawrence.Newman@bakermckenzie.com
Languages:
English
French
Portuguese
Spanish
Italian
Education:
A.B. 1957, Harvard College; LL.B. 1960, Harvard Law School
Bar Admission or Professional License:
U.S. Supreme Court-United States (1976); New York-United States (1965); District of Columbia-United States (1961)
Present Position:
Senior Counsel, Baker McKenzie
Professional Experience:
Senior Counsel, Baker McKenzie, (2016-present), Of Counsel, (2012- 2016), Partner, (1971-2012); (1969-1971); Assistant U.S. Attorney, Southern District of New York, U.S. Department of Justice (1964-1969) (Securities Fraud Unit, 1965-1969); Attorney, Special Study of Securities Markets, U.S. Securities and Exchange Commission (1961-1964); Attorney, Legislative Liaison Section, Office of the Deputy Attorney General, U.S. Department of Justice (1960-1961)
Areas of Specialization:
Arbitration & ADR
Contracts
Litigation
Securities
Professional Associations:
International Institute for Conflict Prevention & Resolution (CPR) - former Chair, Arbitration Committee; New York City Bar Association (1998-2002) - former Chair, International Commercial Disputes Committee, 2002-2006); American Law Institute - elected member, Adviser, Restatement on the U.S. Law of International Commercial and Investor Arbitration (2009-present); New York State Bar Association; American Branch of International Law Association - former Chair, Committee on International Judicial Integrity; Fellow, College of Commercial Arbitrators; Fellow, Chartered Institute of Arbitrators. (CIArb); Co-founder and Chairman, International Arbitration Club of New York (2010-present)
Arbitration Experience:
Counsel and arbitrator in international maritime, commercial and investment arbitrations since 1972; represented clients in over 25 claims before the Iran-U.S. Claims Tribunal in The Hague and brought first lawsuit against National Iranian Oil Company (NIOC) in the United States. Successfully represented all oil service company claimants before all nine members of the Hague Tribunal against NIOC in a test case to determine the liability of NIOC for contracts entered into by the Oil Service Company of Iran, which had been owned by a consortium of foreign oil companies before being taken over by Iran. Successfully represented BellSouth International in fraud claim in arbitration against Compagnie Generale des Eaux. Lead counsel in successful arbitration by Swiss nuclear power company against U.S. supplier of uranium fuel terminating long-term supply contract on basis of frustration and mutual mistake.
Publications:
Co-author, Litigating International Commercial Disputes (WestGroup 1996) (treatise on transnational litigation in the United States); Co-author and contributor, International Arbitration Checklists (2d edition 2009); Co-author and contributor, The Leading Arbitrators' Guide to International Arbitration (3d edition 2014); Editor, Enforcement of Foreign Judgments (three-volume loose-leaf international survey of national laws); Editor, Attachment of Assets (two-volume loose-leaf international survey of national laws); Co-editor and contributor, Take the Witness: The Experts Speak on Cross-Examination (2006) (essays on cross-examination); Co-author, International Litigation column in New York Law Journal (six times a year, 1982--); Co-editor and contributor, Checklists in International Arbitration (several editions); co-editor and contributor, Take the Witness: Cross-Examination in International Arbitration (2d edition 2019); Co-editor, Interim Measures in International Arbitration (2014); Co-editor and contributor, Soft Law in International Arbitration (2014); Co-founder and creator, Leading Arbitrators' Symposia on the Conduct of International Arbitration (held in Vienna and elsewhere in the world since 2005), seminars on cross-examination in international arbitration, held in in Paris, Vienna, New York , Venice and Rome; Lecturer and speaker on international litigation and arbitration in the U.S, Austria, England, Australia, Czech Republic, France, Italy, Mexico, Argentina, Japan, Singapore and China.