Rabab Yasseen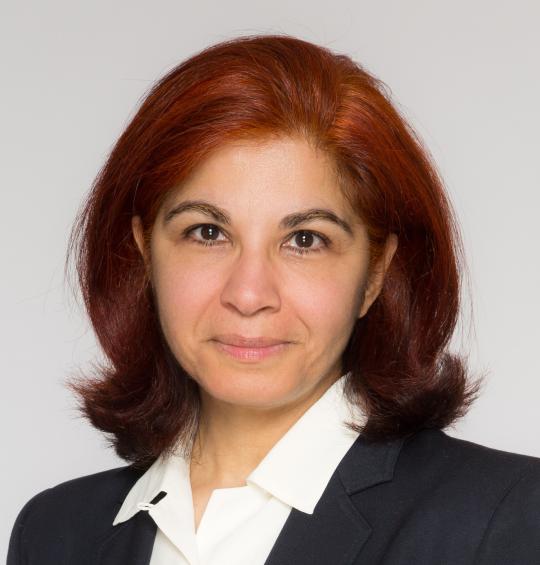 Address:
Mentha Avocats
4 rue de l'Athénée,
1205 Geneva
Switzerland
Email:
rabab.yasseen@mentha.ch
Website: www.mentha.ch
Education:
BPP and College of Law, London 2001
University of London, King's College London (KCL), LL.M. in International Business Law, 2000
University of Geneva, B.A. in History & Literature, double major 1997 & 2002
University of Geneva, B.A. in Law 1986
Hague Academy of International Law, 1985 sessions
CEDR, London 2020
Bar Admission or Professional License:
Solicitor (England & Wales) 2001; Geneva Bar 1986
CEDR Accredited Mediator 2020
Present Position:
Deputy Judge, Geneva Civil Courts (2007 - )
Mentha, Geneva Law Firm, Partner (2005 - )
World Bank Sanctions Board (2019 - )
Professional Experience:
Lalive, Senior Associate (2003 – 2005); University of Geneva, General Legal Counsel (2003); WTO / ITC, Consultant (2002); Lenz & Staehelin, Senior Associate (1989 – 1999).
Professional Associations:
Member of the ICC Arbitration Commission and active member of several task forces ("Revision of the ICC Rules of Arbitration", "Arbitration involving States and State entities", "the Emergency Arbitrator". and the current task force on "ADR and Arbitration"); Swiss Arbitration Association (ASA), Regular delegate to the UNCITRAL Commission and Working Group II and III sessions, including the sessions on "Transparency in treaty-based investor-State arbitration" (the Rules and the Mauritius Convention), those on "the revision of the UNCITRAL Notes on Organizing Arbitral Proceedings", on "the enforceability of settlement agreements" (the Singapore Convention) and the current works on "the investor-State Dispute Settlement Reform"; International Law Association (ILA), member of the Swiss ILA Directorate, member of the International Commercial Arbitration Committee of the ILA; International Bar Association (IBA): member of the task force drafting the Investor-State Mediation Rules; London Court of International Arbitration (LCIA – London): frm. Council Member; Cairo Regional Arbitration Center (CRCICA): Vice Chair of the Advisory Committee.
Other Professional Associations: Geneva and Swiss Bar Associations; ICC Institute of World Business Law; International Counsel of Commercial Arbitration (ICCA); Comité Français de l'Arbitrage (CFA); International Arbitration Institute (IAI Paris); The Law Society (England & Wales); Member of the OECD and UNCTAD Panels of Experts.
Panels of Arbitrators:
On the list of arbitrators of: ICC Arbitration Panel (Swiss National Committee); WIPO; the Court of Arbitration for Sports (CAS – Doping Division); Vienna International Arbitration Centre (VIAC); the Slovenian Arbitration Centre; the International Centre for Dispute Resolution (ICDR/USA); CRCICA (Cairo).
Arbitration Experience:
Arbitration proceeding as counsel and arbitrator (Sole / Chair / co-Arbitrator) in Ad Hoc and under ICC, CCIG, Swiss Rules, UNCC, UNCITRAL, CRCICA, DIAC, CAS (Cases mainly relate to construction, banking, pharmaceutical, energy, franchise, sport, sport sponsorships, environmental issues and State contracts); Arbitrator in Expedited Proceedings (ICC); Member of the Ad Hoc Division of CAS for the Sport Games of the XXXI Olympiad – the Rio 2016 Olympic Games; Member of the World Bank Sanctions Board.
Areas of Specialization:
International Arbitration
International Contracts
International Transactions
Joint Ventures
International Business Law
Oil & Gas
Energy
Pharmaceuticals
Shipping
Private International Law
Real Estate
Corporate
Finance
Publications:
Co-authored: ITC Contractual Joint Venture Model Agreements and User guide in: UNCTAD/WTO Trade Law Series, Geneva 2004; ITC Incorporated Joint Venture Model Agreements and User guide in: UNCTAD/WTO Trade Law Series, Geneva 2005.
Speaking and Teaching functions: Speaker at various arbitration events: the Geneva Global Arbitration Forum; the Chartered Institute of Arbitrators, London; the London Court of International Arbitration; the Stockholm Institute of Arbitration; the Cairo Regional Arbitration Centre; DIFC-LCIA; UNCITRAL; ICC (PIDA); the Energy Charter Treaty (Brussels). Last teaching functions include: LLM program, Edinburgh University; LLM Program, Pace University, New York.