John W. Lowe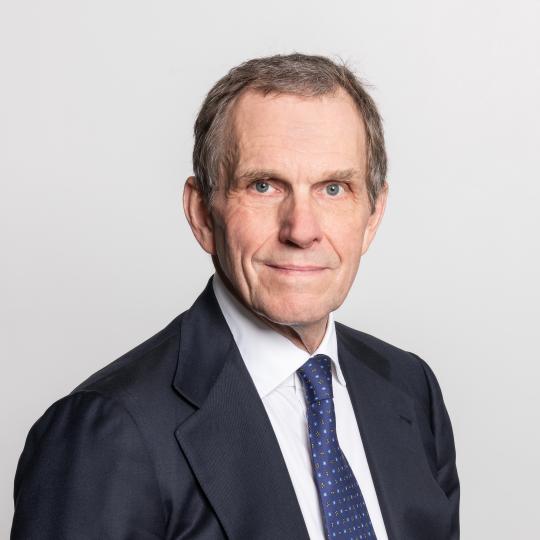 Address:
16bis rue Louis Philippe
Neuilly sur Seine 92200
France
Phone Number:
+33 6 86683188
+1 917 546 4618
Email:
john.lowe@lowearbitration.com
www.lowearbitration.com
Arbitration Philosophy/Statement:
Arbitration is an excellent method for deciding disputes that cannot resolved by negotiation or otherwise. For me this requires that the arbitrator or arbitrators be completely neutral and dedicated to providing the parties with a fair, neutral and independent hearing in which all parties have a full opportunity to present their case. At the same time, the arbitrator or arbitrators must ensure that the arbitration is handled efficiently and expeditiously in line with applicable rules and laws.
Education:
George Washington University Law School, J.D., 1979
University of Delaware, B.A., 1976
Bar Admission or Professional License:
District of Columbia (USA), 1980
Ohio (USA) 1992
Present Position:
International Arbitrator and Mediator, Lowe Arbitration
Professional Experience:
Group Compliance Director, Geodis, 2015
General Counsel and Communications Director, Qioptiq, 2006-2013
Group Assistant General Counsel, Alcatel, 2003-2005
General Counsel, Alcatel Submarine Networks, 2000-2003
Deputy General Counsel, Alcatel Bell, 1997-1999
International Counsel, Alcatel Italia, 1994-1997
Attorney, Cooper, Walinski (Ohio, USA), 1992-1994
Attorney, Lowe & Associates (Milan, Italy), 1987-1992
Foreign Service Officer (Economist), US Diplomatic Service (postings in Mexico, Washington and Italy), 1980-1987
Professional Preferences and Philosophy:
What do you regard as the most important differences between arbitration and litigation in court? 
Arbitration offers the parties to the dispute the opportunity to choose the place of the arbitration (and thereby the law affecting the arbitration), the rules governing the arbitration and, most importantly, the decision-maker, i.e., the arbitrator or arbitrators who will control the proceeding and issue the ultimate award. Of equal importance, arbitration, by means of the New York Convention, affords virtual worldwide enforceability which is not the case with litigation. Arbitration also offers flexibility and confidentiality; the procedures can and should be adapted to the case at hand. Properly handled, arbitration is more economical and quicker than litigation.
What are the best ways to achieve efficiency in arbitration consistent with fairness to all parties?
Efficiency in arbitration requires the active involvement of the arbitrator or arbitrators from the beginning. Ground rules and schedules should be established early and, most importantly, adherence should be enforced. Parties will be expected to present their evidence and arguments and will be given all reasonable means to do so. Efforts to delay or sidetrack the proceeding, however, should be thwarted. Fairness is achieved by applying the rules of the arbitration to each party to the arbitration in an even-handed manner and by demonstrating that these rules matter. Discovery and orders for document production should be used judiciously and in response to particular requirements of the case.
Do you believe that arbitrators have the right or an obligation to conduct their own legal research?
Arbitrators must read and listen to the submissions and presentations of the parties in their entirety and carefully. Submissions, in particular, will often be accompanied by references to cases, articles, laws and regulations which can and should be reviewed. Occasionally, arbitrators may, in order to follow a line of thinking, review cases, sources or laws not submitted by the parties. This is natural and to be expected. Arbitrators bring their expertise to an arbitration—in fact they are often chosen for such expertise. However, if such inquiry leads to new issues regarding the particulars of the case that the arbitrators believe are important and should be addressed, the arbitrators must raise any such questions or issues  with the parties. They should not and must not make decisions on theories that have not been reviewed and tested by the parties.
Professional Associations:
Member, ICC Commission on Arbitration and ADR; Fellow and Approved Faculty Member, Chartered Institute of Arbitrators (CIArb); Fellow, Asian Institute of Alternative Dispute Resolution (AIADC); Member, London Court of International Arbitration (LCIA); Member, International Arbitration Institute (IAI); Member, Associazione Italiano del Arbitrato; Member, Association Française d'Arbitrage, Former Board Member and President, Asociation of Corporate Counsel Europe, Former Member, Cercle Montesquieu.
Panels of Arbitrators:
Panelist, American Arbitration Association
Panelist, Arbitration Foundation of Southern Africa
Panelist, Asian International Arbitration Centre (AIAC) (formerly Kualu Lumpur Regional Arbitration Centre)
Panelist, Centre de Médiation et d'Arbitrage de Paris
Panelist, Chambre Arbitrale Internationale de Paris
Panelist, Emirates Maritime Arbitration Centre (EMAC)
Panelist, Financial Industry Regulatory Authority (FINRA) (USA)
Panelist, Georgian International Arbitration Centre (GIAC)
Panelist, Hong Kong International Arbitration Centre (HKIAC)
Panelist, Korean Commercial Arbitration Board, Panel of International Arbitrators (KCAB)
Panelist, International Arbitration Institute (Paris, France, www.iaiparis.com)
Panelist, International Center for Dispute Resolution (ICDR)
Panelist (Distinguished Neutral), International Institute for Conflict Prevention and Resolution (CPR)
Panelist, Kigali International Arbitration Centre,
Panelist, Saudi Center for Commercial Arbitration (SCCA)
Panelist, Singapore International Arbitration Centre IP Panel (SIAC)
Panelist, Vienna International Arbitration Centre (VIAC)
Panelist, World Intellectual Property Organisation (WIPO)
Arbitration Experience:
Served as tribunal chairman, sole arbitrator and member of the arbitral tribunal on numerous arbitration cases since 2015. Cases included ad hoc arbitrations and arbitrations managed by leading arbitration institutions. Subject matters have been varied including corporate transactions, distribution and licensing agreements, contractual disputes, finance disputes and investment disputes. Two of my arbitrations were the subject of annulment proceedings. Both were upheld in their entirety: Galilea, LLC v. AGCS Marine Ins. Co., No19-CV-05768 (VEC) (S.D. N.Y. Dec. 16, 2019) and Gemstream (Valuefirst) v Visionael, Cour d'Appel de Paris, Arret du 10 Septembre 2019, RG N. 17/10639.
Areas of Specialization:
Mergers & Acquisitions
Telecommunications
Technology
Agency
Arbitration & ADR
Arbitration
Contracts
Distribution
Employment Law
Finance
Projects and Infrastructure
Intellectual Property
Patents
Copyright
Copyright Law
Trademarks
Joint Ventures
Licensing
Mediation
Private Equity
Shipping
Transportation
Publications:
"Arbitration in the US: A Love/Hate Affair", La Lettre de la Chambre Arbitrale Internationale de Paris, Number 15, December 2017, pp 11-13; 
"Incorporation Mediation into a Company's Dispute Resolution Program", Young Arbitration Review, April 2016, pp 70-74. 
"Litigation Management in the Corporate Legal Department", pages 386-392 in Der Unternehmensjurist (Shulthess Verlag) 2016.
Judge, Vis Moot Court Competition, Vienna, 2016-present
Judge, pre-Vis Moot Courts, Paris, London, New York, Riga 2017-present
Judge, ICC Mediation Competition, Paris, 2018-2020
Visiting Professor, Arbitration and ADR, La Sapienza, Universita' di Roma, 2015-2019
"What happens during a Mediation? How does it work?", Virtual World Litigation Forum, 8-10 September 2020.
"Recent litigation developments in the ever-growing fields of corruption and bribery", World Litigation Summit 2020, Dubai, UAE, 27 and 29 January 2020.
"Third Party Funding in Litigation" World Litigation Summit 2020, Dubai, UAE, 27 and 29 January 2020.
"Review by French Courts of Corruption Allegations in Arbitration Proceedings", World Litigation Summit 2019, Amsterdam, The Netherlands, 2 July 2019. Also moderated session on GDPR Compliance, Investigations and Litigation.
"Alternative Dispute Resolution (ADR): Pros and Cons", 8th World Litigation Forum, Dubai, UAE, 9-10 January 2019.
"Forged documents in Arbitration Proceedings", Parigi-Italia, conference Rome, Italy, 9 October 2018.
"International Arbitration Awards", University of Rome, Roma 3, 20 April 2018.