Jean-Pierre Harb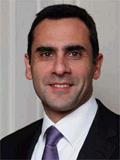 Address:
Jones Day
2, rue Saint-Florentin
75001 Paris
France
Education:
New York University (LL.M. 2001)
University of Paris I Panthéon-Sorbonne (DESS 1997)
University of Paris II-Panthéon Assas (DEA 1997)
St. Joseph University of Beirut (Law Degree 1996)
Bar Admission or Professional License:
Professional Experience:
2008-2012 Partner, Baker & McKenzie, Paris
2004-2008 Associate, Baker & McKenzie, Paris, Riyad
2002-2004 Associate, Thieffry & Associés, Paris, Shanghai
1998-2001 In-house lawyer, Consolidated Contractors Co. (Athens)
Professional Associations:
Member of the ICC Commission on Arbitration and ADR, the ICC Institute of World Business Law, the LCIA User's Council, the International Arbitration Institute (IAI), the Comité Français d'Arbitrage (CFA), the Association for International Arbitration (AIA), the Association Française d'Arbitrage (AFA) and Association Suisse d'Arbitrage (ASA).
Panels of Arbitrators:
Listed arbitrator with the ICC French National Committee, the ICC Lebanese National Committee, the Arbitration and Mediation Centre of the French Arab Chamber of Commerce, the Dubai International Arbitration Centre (DIAC) and with the Chinese European Arbitration Centre (CEAC).
Arbitration Experience:
Over 50 international arbitrations as party's counsel. Over 15 international arbitrations as party-appointed arbitrator, sole arbitrator or chairman. This includes ICC, DIAC, CRCICA, LCIA and ad hoc.
Areas of Specialization:
Commodities in General
Contracts
Foreign Investment & Joint Ventures
Investment Treaty
Oil & Gas
Construction
Publications:
Protecting Foreign Investments in Sub-Saharan Africa: The Southern African Development Community and its Protocol on Finance and Investment, Jones Day Commentary January 2014
The New Enforcement Law of Saudi Arabia: An Additional Step Toward a Harmonized Arbitration Regime, Jones Day Commentary September 2013
Accession of the Democratic Republic of Congo to the Convention on the Recognition and Enforcement of Foreign Arbitral Awards, Jones Day Commentary August 2013
The New Saudi Arbitration Law: Modernization to the Tune of Shari'a, Journal of International Arbitration, Vol 30 Issue 2 April 2013
The New Saudi Arbitration Law, Jones Day Commentary September 2012
If All Else Fails - Putting Post-Award Remedies in Perspective, European and Middle Eastern Aribtration Review - GAR 2012
La réforme de l'arbitrage en France, Opérations Immobilières 2011
New Arbitration Law in France: The Decree of January 13, 2011, Mealey's International Arbitration Report 2011
Les sanctions contre l'Iran, quel impact sur nos entreprises ? La Lettre des Juristes d'Affaires 2011
The DynCorp Case - Journey of an International Arbitral Award, coauthor, IJAA, Vol 3 no 3 2011
La nouvelle réforme de la loi sur l'arbitrage, Le Monde du Droit 2011
Definition of Investments Protected By International Treaties: An On-Going Hot Debate, Mealey's International Arbitration Report, Int'l Arb QL, Rev. 17, 12-3 2011
Les clauses d'arbitrage pathologiques, Journal des Sociétés 2009
Co-author, International Arbitration Checklists, Second Edition, JurisNet 2009
How French Law Treats Pathological Arbitration Clauses, Transnational Dispute Management 2007
Faut-il toujours résoudre ses litiges par voie d'arbitrage ? Options Finance, No 890 2006
Commentary on a French Supreme Court Decision: Juliet et al v Castagnet et al, legifrance.gouv.fr 2005
France, A Striking Decision of the Supreme Court on French Jurisdiction to Appoint Arbitrators, CAA Arb. J, 136 2005