James H. Carter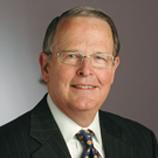 Address:
7 World Trade Center
250 Greenwich Street
New York, NY 10007
USA
Email:
james.carter@wilmerhale.com
Education:
LLB, Yale Law School, 1969
Fulbright Scholar, University of Cambridge, 1966
BA, Yale University, 1965
Bar Admission or Professional License:
Present Position:
Senior Counsel, International Arbitration Practice at Wilmer Cutler Pickering Hale and Dorr, LLP
Professional Experience:
Prior to joining WilmerHale, Mr. Carter was co-chair of the international arbitration and cross-border dispute resolution group at Dewey & LeBoeuf LLP. He was also co-chair of international arbitration, a position he held for more than 20 years, at Sullivan & Cromwell LLP.
Professional Associations:
Mr. Carter is a vice chair of the Board of the New York International Arbitration Center. He is a former chairman of the Board of Directors of the American Arbitration Association, a member of the Court of Arbitration for Sport in Lausanne, Switzerland and a former member of the London Court of International Arbitration, for which he also served as vice president of its North American Council. He is an advisor to the American Law Institute's reporters drafting the Restatement of the US Law of International Commercial Arbitration and is a former president of the American Society of International Law.
In addition, Mr. Carter has chaired the American Bar Association's Section of International Law, as well as its Committee on International Commercial Arbitration, and served as the ABA's representative to the United Nations. He is a former chairman of the New York State Bar Association Committee on International Dispute Resolution and the International Affairs Council of the Association of the Bar of the City of New York. Mr. Carter also chaired the International Law Committee of the New York State Bar Association.
Panels of Arbitrators:
AAA, CAS, CPR, ICC, JCAA, KLRCA
Arbitration Experience:
Mr. Carter has more than 40 years of experience as arbitrator or lead counsel in more than 150 international commercial and investment arbitration cases.
Mr. Carter has represented European, US, Asian and other companies in arbitrations under leading institutional rules and in ad hoc arbitrations in all leading international seats. He has particular experience in joint venture, investor-state disputes, mergers and acquisitions, investment banking and other financial services, project finance, licensing, insurance and energy, as well as international sports law disputes. In addition, Mr. Carter has extensive experience as counsel in US litigation involving commercial, corporate, antitrust, securities and intellectual property matters.
Areas of Specialization:
Intellectual Property
International Banking & Finance
Insurance
Mining and Natural Resources
Oil & Gas
Publications:
"The International Arbitration Review: Sixth Edition," July 1, 2015 (chapter co-author; editor); "2014 IBA Guidelines on Conflicts of Interest in International Arbitration," New York Law Journal, November 17, 2014 (co-author); "FRAND Royalty Disputes: A New Challenge for International Arbitration?" Contemporary Issues in International Arbitration and Mediation, The Fordham Papers 2013, November 12, 2014 (author); "International Commercial Arbitration in New York," Oxford University Press, 2010 (co-editor); "The Culture of International Arbitration and the Evolution of Contract Law" by Joshua D. Karton - A book review in Arbitration International, Volume 29, Issue 3; "Reaching Consensus on Arbitrator Conflicts: The Way Forward," Dispute Resolution International, Vol. 6, No. 1; "Manifest Disregard" of Law? Co-author, 23rd edition of the AAA Yearbook on Arbitration and the Law; "The Perils of Cross-Examination in a Language Other Than the Language of the Proceeding, A chapter in Take the Witness: Cross Examination in International Arbitration;" "The US Practice of and Perspective on Advocacy," co-author, chapter in The Art of Advocacy in International Arbitration.