Czech and Central European Yearbook of Arbitration - Interaction of Arbitration and Courts - 2015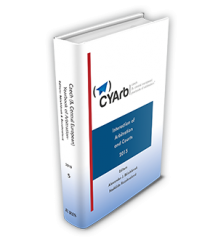 Author(s):
Alexander J. Bělohlávek
Prof. Judr. Naděžda Rozehnalova
The Czech Yearbooks Project, for the moment made up of the Czech Yearbook of International Law® and the Czech (& Central European) Yearbook of Arbitration®, began with the idea to create an open platform for presenting the development of both legal theory and legal practice in Central and Eastern Europe and the approximation thereof to readers worldwide. This platform should serve as an open forum for interested scholars, writers, and prospective students, as well as practitioners, for the exchange of different approaches to problems being analyzed by authors from different jurisdictions, and therefore providing interesting insight into issues being dealt with differently in many different countries.
The Czech (& Central European) Yearbook of Arbitration® , the younger twin project within the Czech Yearbooks, primarily focuses on the problematic of arbitration from both the national and international perspective.
ARTICLES
Aslan Abashidze | Anait Smbatyan
Alexander J. Bělohlávek
Filip Čeladník
Michael Dunmore
Cristina Ioana Florescu
Jiří Grygar
Andrzej Kubas | Agnieszka Trzaska
Petre Lazaroiu | Marieta Safta
Corinna Potocnik | Harald Sippel | Johannes Willheim
Alexander Sergeev | Tatiana Tereshchenko
Martin Svatos
Ewelina Wyraz
Márton Leó Zaccaria
Jozef Zámožík
Elena Zucconi Galli Fonseca | Carlo Rasia
Alexander J. Bělohlávek
Maciej Durbas | Kuba Gąsiorowski | Kamil Zawicki
Martin Magál | Martina Kasemová
Jan Iosifovich Funk | Inna Vladimirovna Pererva
Martin Magál | Martina Kasemová
Piotr Nowaczyk
Denis Philippe
Tereza Profeldová
Antuen Skënderi | Aulona Hazbiu | Klotilda Bushka (Ferhati)
Advisory Board
Anton Baier
Vienna, Austria
Silvy Chernev
Sofia, Bulgaria
Sir Anthony Colman
London, UK
Evangelos Vassilakakis
Thessaloniki, Greece
Bohuslav Klein
Prague, Czech Republic
Pierre Lalive
Geneva, Switzerland
Nikolay Natov
Sofia, Bulgaria
Piotr Nowaczyk
Warsaw, Poland
Stanislaw Soltysiński
Warsaw, Poland
Jozef Suchoža
Košice, Slovak Republic
Vladimír Týč
Brno, Czech Republic
Andrzej Kubas
Warsaw and Krakow, Poland
Editorial Board
Alena Bányaiová
Prague, Czech Republic
Matthias Scherer
Geneva, Switzerland
Marcin Czepelak
Krakow, Poland
Kamil Zawicki
Warsaw and Krakow, Poland
Viorel Mihai Ciobanu
Bucharest, Romania
Wolfgang Hahnkamper
Vienna, Austria
Vít Horáček
Prague, Czech Republic
Marek Furtek
Warsaw, Poland
Ian I. Funk
Minsk, Belarus
Miluše Hrnčiříková
Olomouc, Czech Republic
Vladimir Khvalei
Moscow, Russia
Lászlo Kecskesk
Budapest, Hungary
Asko Pohla
Talinn, Estonia
Květoslav Růžička
Pilsen/Prague, Czech Republic
Jiří Valdhans
Brno, Czech Republic
Thomas Schultz
Geneva, Switzerland
Radu Bogdan Bobei
Bucharest, Romania
Author/Editor Detail:
Advisory Board
Anton Baier
Vienna, Austria
Silvy Chernev
Sofia, Bulgaria
Sir Anthony Colman
London, UK
Evangelos Vassilakakis
Thessaloniki, Greece
Bohuslav Klein
Prague, Czech Republic
Pierre Lalive
Geneva, Switzerland
Nikolay Natov
Sofia, Bulgaria
Piotr Nowaczyk
Warsaw, Poland
Stanislaw Soltysiński
Warsaw, Poland
Jozef Suchoža
Košice, Slovak Republic
Vladimír Týč
Brno, Czech Republic
Andrzej Kubas
Warsaw and Krakow, Poland
Editorial Board
Alena Bányaiová
Prague, Czech Republic
Matthias Scherer
Geneva, Switzerland
Marcin Czepelak
Krakow, Poland
Kamil Zawicki
Warsaw and Krakow, Poland
Viorel Mihai Ciobanu
Bucharest, Romania
Wolfgang Hahnkamper
Vienna, Austria
Vít Horáček
Prague, Czech Republic
Marek Furtek
Warsaw, Poland
Ian I. Funk
Minsk, Belarus
Miluše Hrnčiříková
Olomouc, Czech Republic
Vladimir Khvalei
Moscow, Russia
Lászlo Kecskesk
Budapest, Hungary
Asko Pohla
Talinn, Estonia
Květoslav Růžička
Pilsen/Prague, Czech Republic
Jiří Valdhans
Brno, Czech Republic
Thomas Schultz
Geneva, Switzerland
Radu Bogdan Bobei
Bucharest, Romania
Table of Contents:
ARTICLES
Aslan Abashidze | Anait Smbatyan
Alexander J. Bělohlávek
Filip Čeladník
Michael Dunmore
Cristina Ioana Florescu
Jiří Grygar
Andrzej Kubas | Agnieszka Trzaska
Petre Lazaroiu | Marieta Safta
Corinna Potocnik | Harald Sippel | Johannes Willheim
Alexander Sergeev | Tatiana Tereshchenko
Martin Svatos
Ewelina Wyraz
Márton Leó Zaccaria
Jozef Zámožík
Elena Zucconi Galli Fonseca | Carlo Rasia
Alexander J. Bělohlávek
Maciej Durbas | Kuba Gąsiorowski | Kamil Zawicki
Martin Magál | Martina Kasemová
Jan Iosifovich Funk | Inna Vladimirovna Pererva
Martin Magál | Martina Kasemová
Piotr Nowaczyk
Denis Philippe
Tereza Profeldová
Antuen Skënderi | Aulona Hazbiu | Klotilda Bushka (Ferhati)