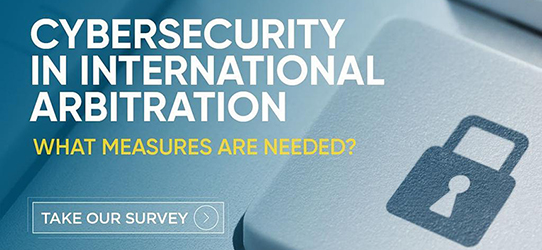 Our Friends at Bryan Cave Leighton Paisner LLP would like to obtain the views of our professional colleagues on the topic of Cybersecurity in International Arbitration. JURIS hopes you will participate by visitng the link below and completing the suvery questions (5-10 minutes). 
Take the Survey Here or Click the Image above
Over the last 8 years BCLP's International Arbitration Group has conducted a number of surveys to obtain the views of users of international arbitration on issues affecting the arbitration process. This year they want to consider the issue of cybersecurity.  

Electronic documents and other information are introduced into international arbitration proceedings in vast quantities. Are participants in those proceedings sufficiently aware of the need to protect that data against unauthorised access by third parties, and should more be done to promote risk assessment and the taking of active steps to enhance data security?

There has been a dramatic increase in cyber-attacks on corporates, governments and international organisations. Law firms and arbitration proceedings are not immune from these threats.  Disputes referred to international arbitration have characteristics that can lead to an increased level of risk and adverse commercial consequences in the event of a data security breach. These developments have led to debate about the need for reasonable cybersecurity measures in individual arbitration proceedings, and how best to go about initiating and organising those measures.  

All responses will be treated as confidential.

A report and editorial on the results of the survey will be circulated to all participants.