Description:
This volume is the "go to" reference for the arbitration practitioner who needs to master the art of cross-examination in the international arena.  In this concise volume international arbitrators and world-class attorneys present proven techniques for the effective cross-examination of laypersons, adverse witnesses, scientific experts, legal experts and others anywhere in the world.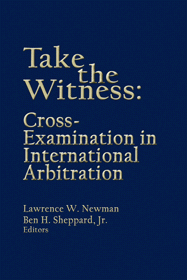 Reviews:
"This book is a very useful reference for arbitration counsel, whether new to the art of cross examination, or experienced but in need for a "refresher" on good oral advocacy skills. In a concise volume leading international arbitrators and counsel, mostly - although not only - trained in common law jurisdictions, present proven techniques for the effective cross examination of witnesses. They address a wide range of specific situations commonly encountered in international arbitration and set out practical tools to deal with them effectively before and during the hearing."
ASA Bulletin 3/2011 (September)
"This is an indespensable resource for all international arbitration practitioners, including those with experience who may need to un-learn certain tactics that are useful in the courtroom but harmful in arbitration"
Dispute Resolution Journal, May-July 2011
"An all-star set of contributors present a superb collection of essays on a topic vital to international arbitration.'"
William Park, Professor of Law, Boston University: Of Counsel, Ropes & Gray, Boston; President, London Court of International Arbitration (LCIA)
 

"A remarkable collection of essays about cross-examination in international arbitration, from a host of leading practitioners and arbitrators; the contributions are both thoughtful and practical, and should be required reading for anyone involved in international arbitration."
Gary Born, Partner and Chair of the International Arbitration Practice Group, Wilmer, Cutler, Pickering Hale & Dorr LLP, London.
 

"We often hear that cross-examination in international arbitration requires both generic and specific cross skills.  We do not often hear, at least outside of private LCIA-Tylney Hall type sessions, enough about the specific skills.  This has changed with Larry Newman's and Ben Sheppard's "Take the Witness:  Cross Examination in International Arbitration."  In this important new "how-to" book, over 25 international arbitration experts -- yes, including many leading international arbitrators who will be deciding your cases based on your examinations -- offer 22 chapters on carefully selected topics.  These range from the concrete (cross-examining technical, legal and financial experts; ) to the not-so-concrete (intuition in cross-examination, where to start and when to stop a cross, when to be friendly and when to impeach).  Particularly welcome, for the real-life international arbitration world, are the chapters on cross-examination under tight time limits, cross-examination before civil law arbitrators, and preparing for cross-examination without discovery."
Lucy Reed, Partner and Co-Head of the International Arbitration Practice Group, Freshfields Bruckhaus Deringer LLP, Former President of the American Society of International Law.

 

"This impressive collection of essays on the art of cross-examination as it applies to international arbitration will serve to level the playing field between counsel from different legal traditions or having varying degrees of experience in oral advocacy.  For that, Ben Sheppard and Lawrence Newman are to be commended.  This book is a must for all international arbitration practitioners."
Pierre Bienvenu, Partner and Co-Chair of the International Arbitration Group, Ogilvy Renault LLP, Montreal; Former Co-Chair, Arbitration Committee, International Bar Association (IBA).

 

"Advocacy in international arbitration has been the focus of increasing interest in recent years, both as regards specialist training and in identifying best practices from different legal traditions and cultures. This book is a timely contribution to the international debate on the subject, written by a stellar cast of authors.  It will be a valuable tool for practitioners."
Judith Gill, Partner, Allen & Overy, London. She is a Director of the LCIA, member of the LCIA Court and member of the ICC UK Arbitration Group.
 

"In most international arbitration, things build up to the main hearing, and after the main hearing people discuss what happened.  The main hearing focuses on the testimony of live witnesses, usually on the basis of written witness statements.  What was just paper comes to life.  This is the ultimate test.  It is also the moment when civil law and common law procedure may meet in a productive way. This new book brings together leading practitioners from all over the world.  It is full of ideas and advice.  A hands-on book that belongs in the hands of any arbitration practitioner."
Pierre A. Karrer, Honorary President of ASA (Swiss Arbitration Association); Vice President, Arbitration Institute of Stockholm Chamber of Commerce (SCC); former Vice President, LCIA; Court Member, ICC; former Chair, Arbitration Commission of Swiss National Committee of the ICC.
 

"As a frequent international arbitrator, I have seen significant differences in how cross-examination is conducted.  I have also chaired hearings in which what was developed through effective cross-examination made a significant difference in the outcome. As common lawyers know, trials have a long tradition of oral advocacy and we tend to bring the questioning of witnesses into the international arbitration process. Civil lawyers question whether cross-examination is worthwhile in international arbitration. International lawyers have done much to harmonize the procedures in recent times. Harmonized or not, there are nonetheless many situations where practitioners have not availed themselves of whatever helpful opportunities may be presented. This book, edited by two lawyers with significant practical experience and aided by an all-star cast of international lawyers and arbitrators with equal experience, brings together insights and experience not found in the covers of any single volume in existence. What they have to say is both well presented and valuable. No matter whether you are for or against cross-examination in international arbitration, you will benefit from the wisdom provided in this book."
Gerald Asken, Former Vice Chair of the ICC International Court of Arbitration; former President of the College of Commercial Arbitrators, former General Counsel, American Arbitration Association.
"These chapters are a pageant of accounts of real life experience in international arbitration. Cross-examination is not a science, and it is exquisitely context-based. Appropriately then, the chapters are each studded with anecdotes, and bristle with cautionary tales. That is the most use for those who want to learn the subject, and the only substitute, a partial one, for real life experience."
-Transnational Dispute Management (TDM), review by Phillip Landolt, Landolt & Koch